Upgrade your tired, cracked, and damaged floor to a stunning and resilient epoxy garage floor with Con-tek Coating and Polishing, a trusted garage floor resurfacing name in Windsor, CO. Call (970) 632-0648 to begin discussing your free quote.
Professional Garage Floor Coatings in Windsor, CO
You want to invest in the best when upgrading your commercial or residential concrete floor to an epoxy garage floor. Our team in Northern Colorado uses high-performing epoxy and polyaspartic bases and industrial-strength, USDA-approved coatings to enhance your concrete surface profile in a variety of ways.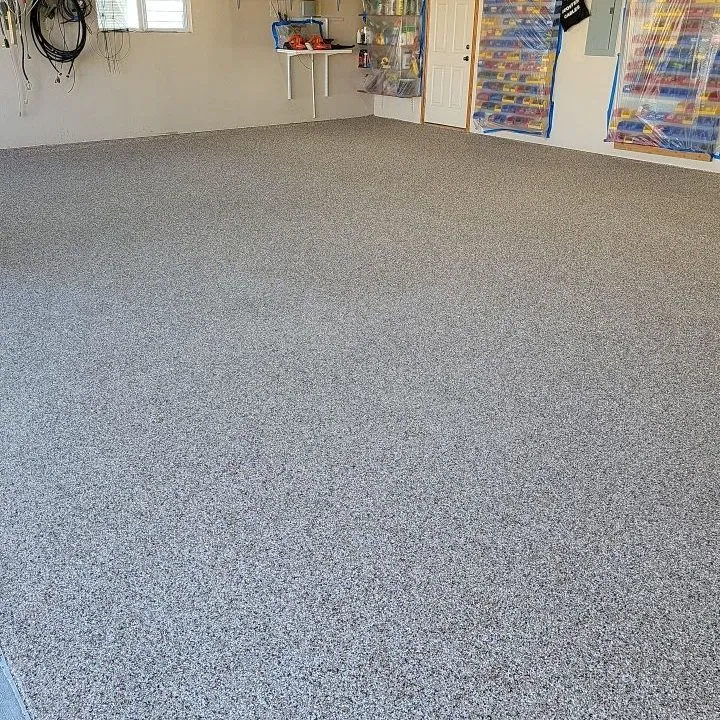 Garage Coatings
At Con-tek Coating and Polishing, we specialize in installing residential garage epoxy finishes. Create a safer and easier-to-maintain concrete garage floor with an epoxy garage floor coating.
Commercial Coatings
An epoxy garage floor is an ideal commercial epoxy floor coating. You can choose to add non-slip safety topcoats to make your residential and commercial floors even safer for clients and employees.
Our services don't stop here. Epoxy flooring is a fantastic home improvement option for most concrete surfaces around the home.
Your home improvement project doesn't have to end with epoxy garage flooring. Every concrete surface in or around your home or business can have an enhanced appearance and longevity. Polyaspartic and epoxy-based floor coatings bring many long-lasting benefits that can include:
Damage prevention
Easy-to-clean surface
Slip-resistance
Custom lines or stripes
Your newly installed epoxy garage floor will resist chips, slips and won't let oil or other liquids seep into the floor. These floors shine with low maintenance requirements. You can even add custom workflow lines or stripes to make your space more organized and efficient.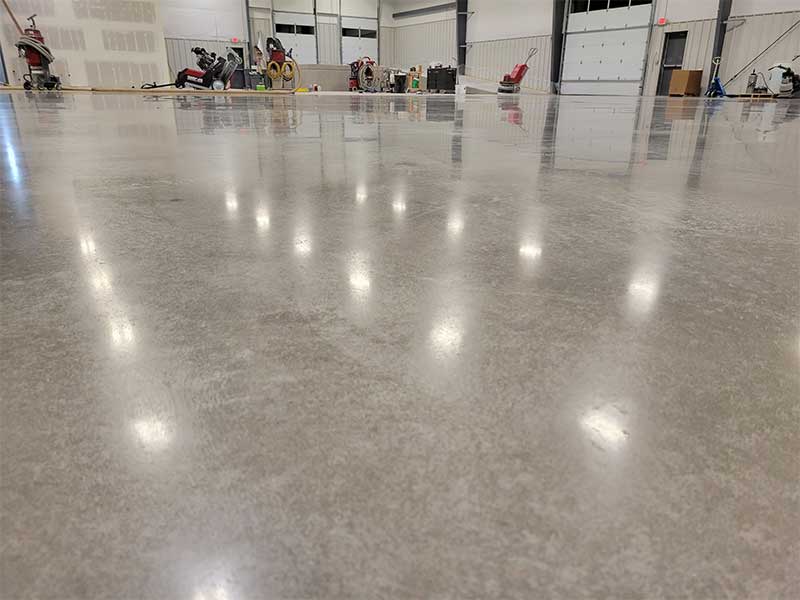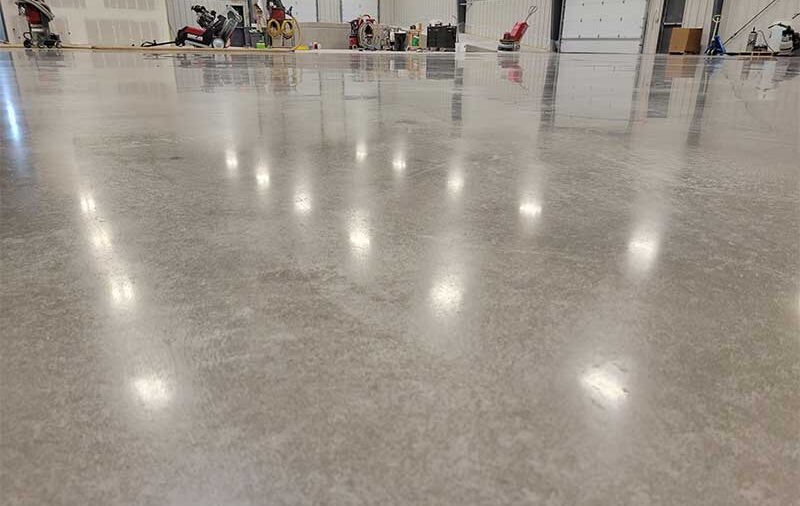 Why Choose Con-tek Coating and Polishing for Your Epoxy Garage Flooring
You want your concrete to look great, be easy to maintain, and look great for years to come. An epoxy garage floor with high-performing epoxy floor coating can cover all of your garage coating needs. Our team's commitment to customer satisfaction helps us provide the best epoxy flooring.
You can trust the Con-tek Coating and Polishing team to offer:
An in-depth consultation and a free quote for installation
A detailed estimate of installation time and return-to-service date
A thorough surface preparation process
Application of high-performance coatings
Up-to-date training and extensive experience
The latest in grinding and preparation tools
Custom epoxy flooring services
You can count on the Con-tek Coating and Polishing team to provide the epoxy flooring of your dreams at your home or your place of business. Once you reach out to us for your free quote, we will answer any questions you have and assess your current flooring situation.
After you decide on the best epoxy flooring for your needs, we get to work using our in-depth preparation and installation process. Just call, email, or stop by our office to begin your epoxy flooring improvements with Con-tek Coating and Polishing.
Along with Windsor, CO we serve in the following regions;
How We Install Your Epoxy Garage Floor
Properly preparing a concrete flooring surface for epoxy floor coating is an intensive process. With over ten years of experience in the commercial coatings industry, we know that appropriate preparation makes a massive difference in the final look of your epoxy garage floor.
Our installation process includes four essential steps:
Step 1 – Preparing the Flooring Surface
After removing all movable items, we begin to prepare the surface. This preparation includes grinding down the existing concrete enough to encourage strong adhesion of the epoxy coating. We remove the areas where oils, glues, or other substances may interfere with the adherence of the epoxy.
This step can use a variety of tools, including:
Diamond grinders
Shot Blasting
Application of solvents or stain removers
This step helps to remove all unwanted materials from the concrete surface and allows for a better resurfacing result. We will also vacuum the area to completely remove all dust and debris before moving to the next phase in the installation process.
Step 2 – Repairing Existing Damage
Next, we will look for any cracks or joints that need to be filled or bridged. We perform these minor repairs to help prevent further damage from moisture or debris over time. This step also helps further improve the foundation surface for better adhesion of the epoxy garage floor.
Step 3 – Applying the Base Coat
Once we are sure that the surface is free of cracks, pits, and stains, we begin to apply the base coat of your epoxy garage floor. For some installations, this may include putting down lines, stripes, or company logos per your epoxy flooring design plan.
Step 4 – Applying the Top Coating
After the first coat of epoxy coating cures, we can begin applying the top coating of your choice. We offer a wide range of coatings that include:
Waterproofing
Non-slipping
Moisture vapor barriers
Impact resistance
Industrial strength
UV resistant
USDA approved
You can customize your epoxy coating choice to meet your home or business's unique demands. These high-grade commercial coatings can be ideal for multiple industries, including food service, automotive, or factory applications. They're also perfect in your own home garage.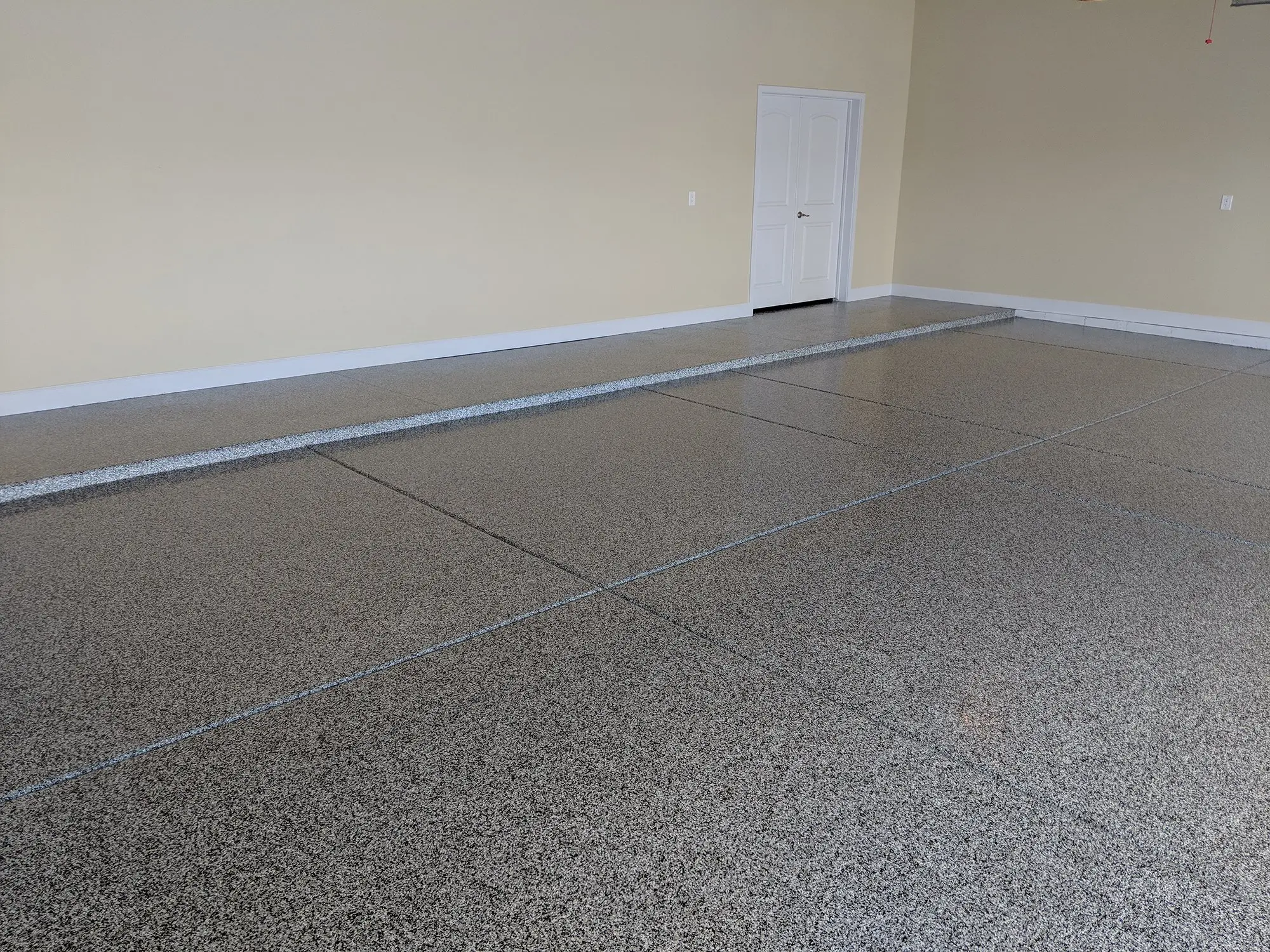 Call Today for a Free Consultation and Quote
Residents of Windsor, CO, know they can quickly find a reliable epoxy garage floor service in the area. Our Northern Colorado company is locally owned and operated and is proud to offer exceptional services that focus on customer satisfaction.
Look no further than Con-tek Coating and Polishing when you're ready to begin planning your epoxy garage floor in or around Windsor, CO. We're prepared to work with you to make your residential or commercial floors beautiful, safe, and easy to clean.
Call Con-tek Coating and Polishing at (970) 632-0648 for your commercial and residential epoxy garage floor needs in Windsor, CO.
Windsor, CO, is just over 50 miles North of Denver, CO. The Fort Collins/Loveland metropolitan area includes Windsor and offers a variety of recreational options. The area features a living museum of Colorado High Plains life over the years and three libraries.